We all know, far too well, how high the stakes are when it comes to drug testing in the workplace be it, pre-employment or for a job you have a had a long time! No one wants our relaxing, luscious and legal herb to be the reason we lose our job!!
The most popular test done by employers is the urine test, there's a good chance that this will be the form of test given to you at some point. Urine tests aren't as expensive as a hair follicle test might be, and they're a lot more useful than a mouth swab.
So it's a shit hot idea to protect yourself against this potentially job-destroying test. But how exactly would you go about doing that?
Well, there are any number of products in the market that claim to be a substitute for real urine. The problem we face is that many of these synthetic urine products are fakes! They scam you out of your money and leave you feeling assured right until the point the results come back.
In this day and age, you just cannot gamble on the efficacy of your synthetic urine when you're going through a screening. In light of these fake products, we're doing a review of Clear Choice's Sub Solution
Clear Choice is a brand that's been offering quality drug test solutions for 25 years now, including synthetic urine. While the product has always received positive reviews, we thought it only right to try the product out for ourselves, and see if the hype is justified.
What is the Clear Choice Sub Solution?
Clear Choice Sub Solution is a synthetic urine sample that differentiates itself from others in the market in one fundamental way: it comes in powdered form instead of liquid. This powdered form can be mixed with water to help you create the solution you need.
There's an obvious benefit to Clear Choice's decision to develop the product in a powdered form – it makes for a better quality product. Firstly, you can have the fake piss stocked up for a long time without worrying about it potentially expiring or losing its efficacy as the days go on.
For another, unlike with pre-mixed liquid solutions, there's no chance of the components in the vial being separated or getting spoiled. Instead, all you have to do is mix the powder with water the day you take the test, without worrying that the components might separate from each other.
So this could be a winner of a product, especially if mandatory drug tests are a regular occurrence for you. The question is: Does sub solution really work?
To answer that question, let's have a look at the ingredients within this product, as well as how to use it.
What are the Ingredients in Clear Choice Sub Solution?
A look at the ingredients list shows that there is a grand total of 11 ingredients within the Sub Solution synthetic urine. The non-active ingredients are simply chemical compounds that balance the levels of creatinine and pH.
There are also ingredients that catalyze the artificial sample's heat activation. This brings us to the active ingredients. What exactly allows Clear Choice Sub solution to effectively mimic real urine?
Well, those ingredients would include a combination of urea and uric acid, which you may remember from your 8th Grade Biology lessons to be components of human urine. These are the ingredients that allow this Sub solution fake urine to come so close to real urine.
How Do You Use The Sub Solution Fake Pee?
A purchase of Clear Choice Sub Solution gets you one vial of the powder piss, one vial of the heat activator powder and one mixing container. In order to create the mixture, you need to mix the contents of the plastic vial with water into the mixing container. You can use the solution is good for eight hours after mixing it.
Once test time is here, add the contents of the heat activating vial.
Then, on the mixing container, you should find a strip that shows you whether or not the fake pee within is at the right temperature.
Now, when we humans urinate, the urine is at a temperature between 98°F to 102°F.
As long as the product is within this range of temperature, the strip at the side of the container will show the color green. If the strip doesn't show that color, it means the vial's contents are below that range or above. You'll then need to add the contents of the heat activating vial.
But you need to be smart about this. For example, if the temperature is below 88°F, add around a third of the contents into the mixture. If it's between 88°F and 92°F, add around a fourth of it. You should be able to do the math easily.
Even if you mess up the math and add too much heat activating solution, you can cool off the mixture. Do this by placing the mixing container against any sort of cold surfaces, such as a tiled floor, or the toilet tank.
So does Sub Solution Work In 2019?
Well, yes! We already knew of the many customer reviews that have raved about the Clear Choice Sub Solution product. In fact, some even claimed that they passed more than a single test with it. As a product that launched back in 2002, it has cultivated its banging reputation for around 16 years.
So to really test the product ourselves, we got a home drug test kit. Then we used the product with the kit to see if it worked. Guess what, it did! Just to confirm our results, we got a second home drug test kit from a different brand. And the Sub Solution worked with that too!
How Much Does It Cost and Where Can You Get It?
As a product that's really high quality, the Sub Solution is listed for $75 on the manufacturer's website. A quick scan of its competitors will tell you that it is more than twice the cost of most other products on the market. That's the thing. If you want a product that really works, you're going to have to pay the price for it.
Think of this product as an excellent investment. After it works, you'll see the money you spent on it was worth it. Keep your wage for a small payout!! Especially if you are subject to mandatory screenings on a regular basis, or if you're applying to a lot of jobs, you should have this on hand. It helps to keep a stock of this product, so you have it when you need it without having to wait for shipping.
Make sure you're purchasing the real product! There are a great many scams out there that are all too ready to part you with your well-earned cash.
Avoid third-party tampering by staying away from products sold on Craigslist or eBay, since these could be old or fake. Instead, order the product directly from the manufacturer's official website to avoid the fakes.
*Brand New For 2019*
Clear Choice Quick Luck Pre-Mixed Synthetic Urine Kit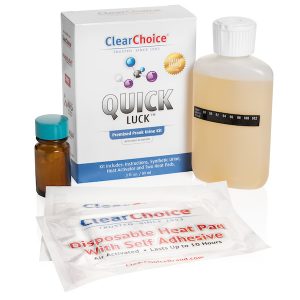 Quick Luck is a NEW premium quality, 3oz synthetic urine kit with the most superior formula on the market, based on more than 15 years of research and lab testing. This is the only pre-mixed, synthetic urine of its kind and it rivals any other product out there on the market.
This is a 100% effective, pre-mixed, uni-sex, 3oz synthetic urine sample which is designed to be undetectable and toxin free.
It comes pre-mixed for fast, easy stress-free use. Includes two heat pads as well as Clear Choice's own unique heat activator powder.
Passing is assured with Clear Choice's upgraded Synthetic Urine formula and now the PRE-MIXED kit, making passing even easier!!
We hope this review was helpful to you. Best of luck passing the drug test!