Spike Urine Additive
Clear Choice scientists created SPIKE™ after thousands of hours of intensive lab research. SPIKE™ is a new revolutionary breakthrough – it's the smallest, most potent, undetectable urine purifier ever created to date.
A quickly dissolving liquid that is colorless and odorless and cannot be detected once added to a urine sample.SPIKE™ was formulated for the enzyme multiplied immunoassay test (EMIT test) which is the initial screen in 99%of work places. SPIKE™ is NOT effective on the more accurate gas chromatography/mass spectrometry (GC/MS).
NOTE: This product will not work for EMIT tests that have the test strip built into the collection cup.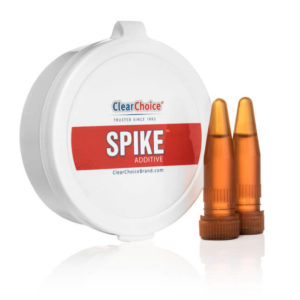 The Solution for Random EMIT test or test panel testing
Formulated to destroy ALL Toxins on Contact
Simple to Use – Just Pour into Sample
1.5mL Micro Vial – Ultra Small & Easy to Conceal
Good for up to two tests
This product is effective for the EMIT TEST ONLY (immunoassay test / test panels)
You should NOT use for GC/MS also known as the confirmation test. Using this product on a GC/MS test may lead to a positive result.
Directions for use:
✓Light / Occasional smokers: Simply pour entire content of 1 vial into your urine sample. Each vial is effective for a sample up to 120ml (4oz). For urine samples over 120ml (4oz) you will need to use both vials at once.
✓Heavy / Daily smokers: Simply pour entire content of both vials into your urine sample.
✓Warning – using two vials can cause a slight odor, but waiting a few minutes will minimize the odor.