Clear Choice Rescue Cleanse 32oz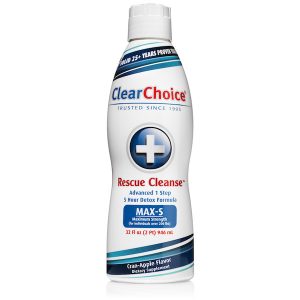 HIGHLIGHTS OF THE RESCUE CLEANSE 32OZ:
-Clear Choice Rescue Cleanse is a one-hour advanced detox drink.
-This drug test drink works effectively for a urine drug test.
-It gives you a clear zone for up to 5 hours.
-Works effectively for individuals with higher toxins levels/individuals over 200lbs.
-Clear Choice Rescue Cleanse drug test drink comes in a tasty cran-apple flavor.
DIRECTIONS FOR USE:
1. Avoid the consumption of drugs and unnecessary medications for at least 48-72 hours. If you smoke weed heavily and very frequently then a longer abstinence period may be required.
2. You should not eat or drink for 4 hours before consumption of the Clear Choice Rescue Cleanse. Rescue Cleanse Detox Drink will need a minimum of 60 minutes to become effective.
3. To achieve the best flavor you can refrigerate this drink. Shake well and drink the entire contents of the bottle quickly but at a comfortable pace. Then, after waiting for 15 minutes, refill the container with the cold water & drink that too.
4. Finally, urinate frequently to remove toxins and you will be in a clear zone after an hour. Optimal results can be achieved within the first hour!
Would you like to know more about how to pass a urine drug test using other alternatives? Visit us here!