Detox Drink – Clear Choice Rescue Cleanse 17oz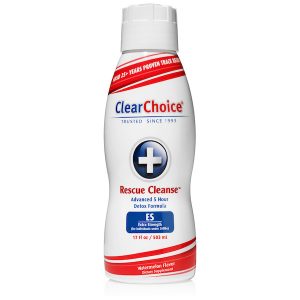 -Advanced One Hour Regular Size Rescue Cleanse Liquid Detox Drink
-Clear Choice Rescue Cleanse can be used to pass nicotine tests.
-It will keep you in the Clear Zone™ for up to 5 Hours.
-On top of that, it has an amazing Fruity Watermelon Flavor
Directions for use:
✓To achieve best results avoid making use of all toxins and unnecessary medications for at least 48–72 hours.
✓For real heavy users of herbal toxins, a longer abstinence period may be required.
✓Do not eat or drink for 4 hours before consuming this Clear Choice® Rescue Cleanse product.
✓Allow 60 minutes for the Clear Choice Rescue Cleanse to become effective.
✓For best flavor refrigerate this drink and shake well before opening. Drink entire contents of the bottle as quickly as possible but at a comfortable pace. Then wait 15 minutes and refill the container with cold water and drink.
✓Urinate frequently to remove toxins. Also, continue to avoid food and beverages.
✓After one hour you will be in the "Clear Zone™" for up to 5 hours.
*Maximum effectiveness is achieved within the first hour.*